Travel is back in action for 2022 and the wellness retreat offerings are better than ever before. From once in a lifetime trips where you'll venture across the world to experience the best of wellbeing, to fitness-focused retreats hosted by London's most renowned studios…we've rounded up 12 wellness retreats happening across the globe this year.
BEST FOR PILATES LOVERS – Heartcore St Tropez Retreat
WHO: Led Jessie Blum by founder of Heartcore, the leading dynamic Pilates studio in partnership with Wandawonda, the specialists in escapes for the mind and body. The Heartcore method is a transformative mental and physical experience, using elements of Pilates, Yoga and the joy of free movement.
WHAT: Tailored to the key pillars; exercise, relaxation and balance, Heartcore's innovative 5-day retreat offers guests the chance to experience the signature Heartcore mat-based classes, local hikes, trail hiking/running expeditions, private PT sessions and some more restorative, slower practises to unwind the day. Afternoon activities include massages, a winery visit, petanque, catamaran cruise, spa treatments and tennis. Light breakfast and post-workout brunch will be served every day. Relaxed group dinners will be located at the Villa, and two will be in town at Le Café and La Bouillabaisse Plage.
WHERE: The Villa Cosy is in the centre of Saint-Tropez in the French Riviera. The property is within walking distance of the beach and boasts plentiful amenities including a heated outdoor pool, jacuzzi, hammam, sauna, treatment rooms and a fitness room.
WHEN: 30th March-3rd April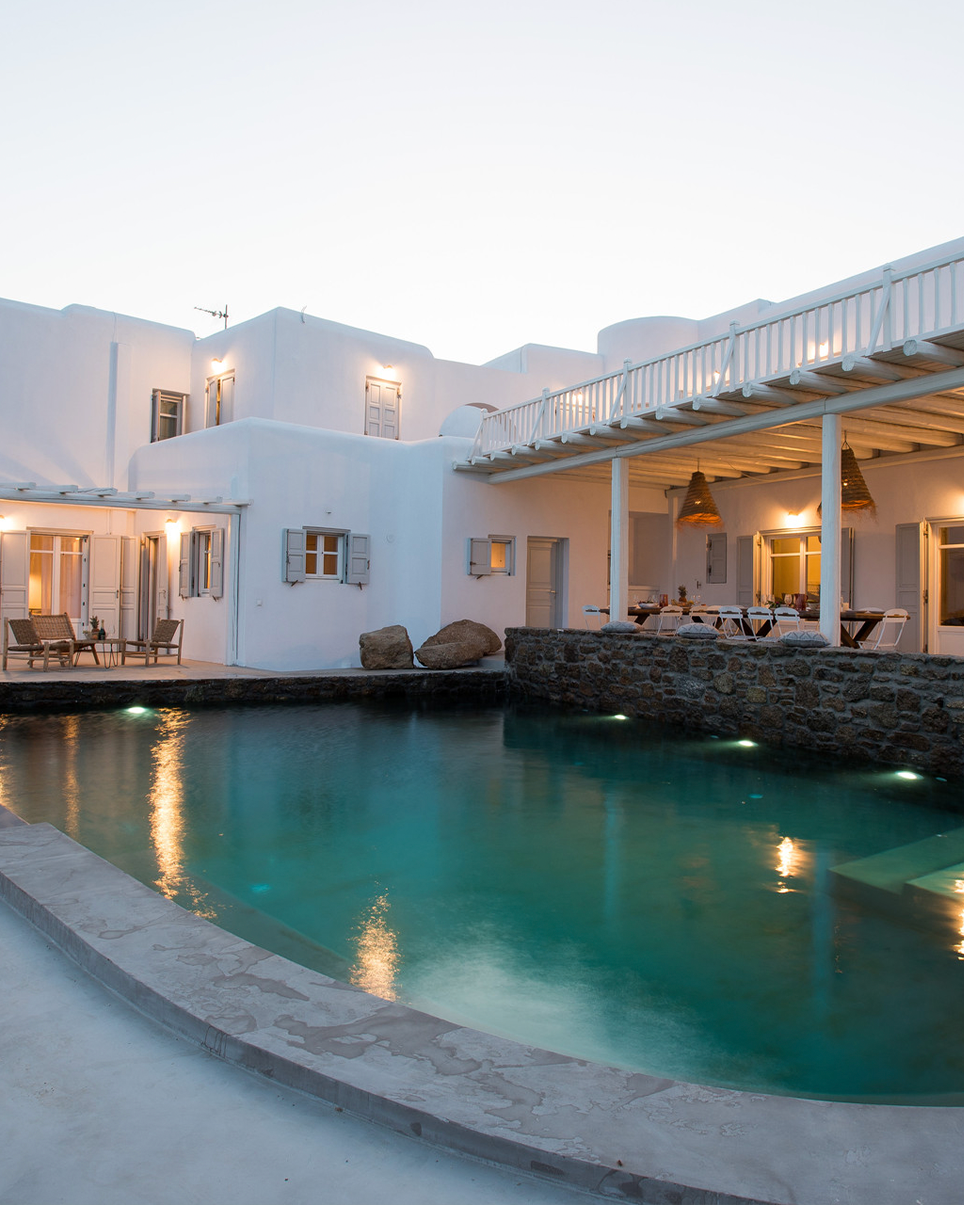 BEST FOR LOW IMPACT FITNESS – RE:NOU Retreat
WHO: Created by Georgie Spurling, founder of the GS Method, the online wellness portal which focuses on low impact exercise whilst delivering incredible results.
WHAT: ​​The energising 6-day retreat has been expertly designed to nourish and renew the body and mind. The aim of Re:Nou is to provide guests with low impact, low stress but highly effective training coupled with nutritious Mediterranean cuisine to help strengthen the body from the inside out. The trip includes daily energising low classes every morning from pilates, barre, banded workouts and more, daily sunset stretch class, a 1-1 session with Georgie to address personal fitness goals, paddle tennis, full board wholesome meals including brunch, light lunch and dinner prepared by a local chef, Q&A and chats on various wellness topics, a boat trip exploring the old ruins of Delos and the crystal clear waters near Pathos, evening in Mykonos town and a sundowner to the popular destination, Scorpios.
WHERE: Located in the idyllic Greek of Mykonos, Villa Ahlvar overlooks the beautiful Kalo Livadi beach. The 12 bedroom luxury Myconian style villa has a cinema room, sauna, studio gym and 2 pools.
WHEN: 1st-7th May
BEST FOR A HEALTH RESET – The Ranch Italy
WHO: Founded in Malibu, The Ranch is a luxury healthy lifestyle company, offering acclaimed results-oriented, fitness and wellness retreats along with an assortment of healthy food and beauty products.
WHAT: The week-long stay combines The Ranch Malibu's signature programme with the services and knowledge of the team at Palazzo Fiuggi, for a transformational experience. Each day entails a four-hour morning mountain hike, nap time, afternoon strength and core training classes, yoga and daily massage, complemented by a nutrient-dense, plant-based diet. Guests also have the opportunity to undergo diagnostic and blood testing by a world-class physician for a more complete understanding of their current health. This fusion of health programming leaves guests with a greater sense of self, feeling rested and rejuvenated while having lost fat mass and gaining muscle, and most importantly mental clarity.
WHERE: Located on an ancient hilltop in a private 20-acre park Palazzo Fiuggi Wellness Medical Retreat is just 50 minutes outside of Rome nestled in one of Italy's richest naturalistic towns.
WHEN: Running weekly retreats starting from 15th May
BEST FOR BALANCE – PACE Wellness Week by Peglioni
WHO: Run by The Peglioni Club, the member's beach club famed for laid-back island escapes, PACE is curated alongside the most amazing mix of wellness experts including Irish brothers Steve and Dave Flynn, known as The Happy Pear and Lily Simpson founder of the Detox Kitchen.
WHAT: This 5-day luxury break will kick start your summer firmly into action. Contrasting from traditional retreats, rules are replaced with an opportunity to reset and revitalise, where you're encouraged to do fitness classes and indulge in long lazy lunches in equal measure. Think wholesome activities such as sunrise paddle boarding, yoga sessions, breathwork, ice bathing, guided meditation led by Rob Da Bank and beach runs, whilst making time for chef-cooked lunches, feast-style evening BBQs and plenty of rosé. Restorative yoga, HIIT, cardio, Pilates and barre classes curated by Oyogo London are offered, alongside workshops and talks exploring topics such as nutrition, stress management and relaxation.
WHERE: Based in North Zakynthos, Greece The Peligoni Club have a selected range of private villas, cottages and B&Bs, either by the sea or in the beautiful hills which you'll be hosted in.
WHEN: 23rd-27th May
BEST FOR A BLEND OF WELLNESS – Artah 7-Day Sweat + Flow
WHO: Artah, founded by Rhian Stephenson ex-CEO of PSCYLE, is an online wellness platform that combines therapeutic nutrition, functional fitness, and powerful holistic practices to deliver meal plans, classes, workshops and retreats. The Sweat + Flow retreat will be led by Tom Wilson-Leonard, an internationally acclaimed yoga teacher and personal trainer. He specialises in Power Yoga and hybrid movement practices which focus on mobility and strength.
WHAT: The week-long signature programme is designed to leave you feeling completely restored and invigorated. The energetic movement schedule is the perfect blend of strength and recovery, accompanied by yoga practices like power, vinyasa and yin, hiking and meditation. The menu provides both plant and omnivore options with organic, locally sourced produce. You will experience restorative body treatments and periods dedicated to rest to allow your body to completely transform.
WHERE: Set in the foothills of the Pyrenees, Can Terrades is located near the town of Besalú in Girona, Catalonia, Spain. The property boasts 12 bedrooms with en-suite bathrooms, a yoga and fitness barn, spa, infrared sauna facilities, indoor and outdoor dining areas, its own hiking and cycling trails and two swimming pools.
WHEN: 30th May-5th June
BEST FOR REGAINING CLARITY – 'Frankly Unstoppable' Life Coaching Retreat
Who: Led by Puja McClymont, one of London's most sought after life coaches. Combining spiritual and scientific techniques with her straight-talking and intuitive nature, Puja is able to help clients create a balanced approach to their career, relationship and health goals through counselling, CBT, NLP, positive psychology alongside Ayurveda and Yogic principles including reiki and meditation.
What: Over the 6 days, work to uncover what it is that you truly want from your life, by bringing your mental, emotional, physical and spiritual wellbeing together for more happiness and fulfilment. Guests will enjoy guided meditations for spiritual connection, restorative activity, a hike to the Atlas mountains, spa activity to release toxins, shopping in the souk, a visit to the beautiful YSL gardens, a divine evening of Morocco traditions, think belly dancers and fire breathers! Each guest will receive x3 one-to-one life coaching sessions during the stay with Puja.
Where: Taking place in the Peacock Pavilions, the Persian garden-inspired boutique hotel in an olive grove on the outskirts of Marrakech, Morocco.
When: 11th-17th June 2022
BEST FOR FITNESS RECOVERY – PILLAR Retreat
WHO: Led by Harry Jameson, the PILLAR team is a selection of the finest coaches, physios and lifestyle specialists who will come together to inspire guests to "recover as hard as you train" so that you leave feeling trained not drained.
WHAT: The 4-night retreat brings together wellness-focused experiences and nutrition, with emphasis on recovery for a luxury stay. Enjoy twice a daily group fitness sessions with Harry Jameson as well as a one-off PT session bespoke to your training needs, full meal plan including breakfast, lunch and dinner, a physiotherapy session, personalised lifestyle audit, your choice of vitality or inner peace massage, cryotherapy combined with Medi-Stream massage, electric muscle stimulation session, a body composition analysis, wellness workshops and talks, leisure activities plus a personal concierge service from PILLAR's in-house travel team.
WHERE: Based at Grantley Hall, the grand hotel in the Yorkshire Dales, offering 47 exquisite bedrooms, four restaurants, the Three Graces Spa and state-of-the-art facilities in the elite gym.
WHEN: 27th June-1st July 2022
BEST FOR AN UNFORGETTABLE EXPERIENCE – The Manifestation Retreat
WHO: Led by founder of CC Yoga, Christina Caldwell and yoga teacher Nicole Valente in partnership with The Safari Retreat, who specializes in experiences that harness abundant natural beauty and unique culture and wildlife of Kenya.
WHAT: This once in a lifetime retreat allows you experience a world-class safari experience whilst delving into your soul to help you connect spiritually to your truest self. Days will consist of early morning sadhana, morning and/or evening yoga and meditations sessions that consist of a variety of class offerings. Your yoga practice will include power yoga, vinyasa flow, restorative yoga, meditation, journaling, alignment, inversion, and community connector workshops. Early morning and evenings are for safari excursions. The trip also includes ​1 night of adventure fly camping, boma visits, volleyball, fitness activities plus you'll receive food and drink for the duration of the stay.
WHERE: Located in Laikipia, Kenya, El Karamais an intimate lodge inside a 14,000-acre private conservancy featuring 8 airy cottages dotted around the main pool area.
WHEN: 1st – 6th Aug
BEST FOR WOMEN'S HEALTH – Escapada Women's Health Rest
WHO: The retreat is created by Escapada Health, the natural health and medicine experts who are firm believes in the holistic root to health and healing. The team of specialised range from Chinese Medicine experts, Ayurveda Therapists, Yoga & Qi Gong teacher and even a Heilpraktikern.
WHAT: This 4-day retreat is exclusive to women to provide an empowering space to look at Women's Health from a natural healing perspective. Explore how Chinese Medicine and the synergy of natural interventions can support menstrual irregularities, fertility, PMS, insomnia, menopause or just that feeling of everything being out of balance. Blending the traditions of Chinese Medicine and Ayurveda, seasonal foods and your individualised treatment plan will help to re-establish your natural state of balance. The stay includes a health consultation with the TCM experts, acupuncture treatments to balance and reset body and mind, a restorative massage with natural oils, full board vegetarian menu with fresh juices, communal cooking demonstrations, daily mindful movement including sunrise meditations, coastal walks and 2.5 hours of yoga per day.
WHERE: Set at the historical Mallorcan farmhouse, Finca Ses Set Cases, in the town of Capdepera, Mallorca, one of Spain's Balearic Islands in the Mediterranean.
WHEN: 29th September-3rd October
BEST FOR SURFING – Talalla Wellness Retreat
WHO: Talalla Retreat was founded by Australian Laurie Rose who fell in love with the spiritual charm of Sri Lanka. Talalla is a boutique health resort built on sustainable principles offering yoga, Pilates, Boxilates and surfing. Many of the staff are tsunami victims and the resort is one of the village's biggest benefactors.
WHAT: Talalla's Wellness Retreats are the epitome of a balanced, healthy holiday. Taking a light-hearted and holistic approach to wellbeing, with a focus on mind, body, and soul.
Enjoy daily surfing, Pilates, yoga, Boxilates and Meditation along with a 1:1 Postural and wellbeing consultation and spa treatments. Nutritionally balanced breakfast, lunch and dinner will be provided as well as fresh juice daily. To balance out the body and mind you'll experience cultural activities such as elephants safari, ​Sri Lankan cooking class and bike rides around the local villages.
WHERE: The Talalla Retreat sits meters away from Sri Lanka's most peaceful and protected beach. Situated at the southern tip of Sri Lanka, the retreat is a 90-minute drive from Mattala Airport.
WHEN: Various Dates
BEST FOR WILD SWIMMING – The Zest Life Yoga & Wild Swimming Retreat
WHO: Run by The Zest Life, award-winners in bespoke seasonal retreats that aim to immerse you in a powerful and healing lifestyle. This particular retreat is hosted by Yoga Teacher, Natalie Gray.
WHAT: During the 5-day retreat you will get to discover a new and refreshing swimming location, from stunning beaches on the Isle of Anglesey to the spectacular lakes of Snowdonia. The trip will involve coastal walks along the beautiful Welsh coastline, daily yoga sessions plus healthy picnic lunches and plant-based meals. Investing in this time will allow you to, experience more of the amazing wild swimming locations that Wales has to offer and to fully switch off and recharge. This retreat is suitable for anyone that wants to escape to the beautiful coast of Wales, diving deeply into the zest life way of living.
WHERE: The retreat takes place at Plas Cadnant, a country house on the Isle of Anglesey, Wales nestled in 21 acres of parkland with stunning views over Snowdon.
WHEN: Various Dates
BEST FOR CHALLENGING YOUR FITNESS – BXR Retreat
WHO: Run by London's luxe fitness gym, BXR, who've pulled together their team of strength, conditioning and boxing experts.
WHAT: Designed to push you to your limits and challenge your fitness, this week-long retreat includes a bespoke nutrition plan with breakfast, lunch, dinner and a protein shake, 6 full days of BXR programming featuring cardio, yoga, functional training, boxing, strength and conditioning, fun retreat activities including hiking, mountain biking, paddleboarding and swimming. Guests also have the opportunity to add on watersports if they wish!
WHERE: Set in Daios Cove Luxury Resort & Villas on the island of Crete, nestled on a hillside overlooking a private bay.
WHEN: 12th-18th May & 19th-25th May
words by Isabelle Shury