Welcome to Hip & Healthy's 12 days of FITMAS! What is this, you might ask? For the 12 days leading up to Christmas day, we're giving you a little insight into how some of our favourite wellness influencers are spending Christmas, their favourite parts of the festive season and little nuggets of wisdom!
On the 11th day of FITMAS, we're catching up with the gorgeous Madeleine Shaw and finding out how she beats festive stress and what she's cooking on Christmas day!
Anything you can't resist during the festive period?
I love roast potatoes they are just so good I could eat my weight in them!
How do you beat festive stress?
I like to have lots of baths they are a time where you catch switch off, however, with a 4 month-year-old I don't see much of this happening this year!
What do you eat on Christmas day?
We have a big free-range turkey, roasted potatoes, honey glazed parsnips, sweet potato wedges, Brussels with pecans and maple syrup. Then it's onto the mince pies, Christmas pudding and berries – pretty typical Christmas day.
What are you most looking forward to in 2018?
Shay eating, walking talking and all the adventures we will get up too.
What's your advice for our readers to get back on track after the festive period?
A bad day or week doesn't undo the hard work you have put in all 2017, cut yourself some slack rest your body, de-stress and then get back on your usual routine in January.
A Christmas gift to our readers?
My Date & Walnut Mine Pie recipe! Enjoy!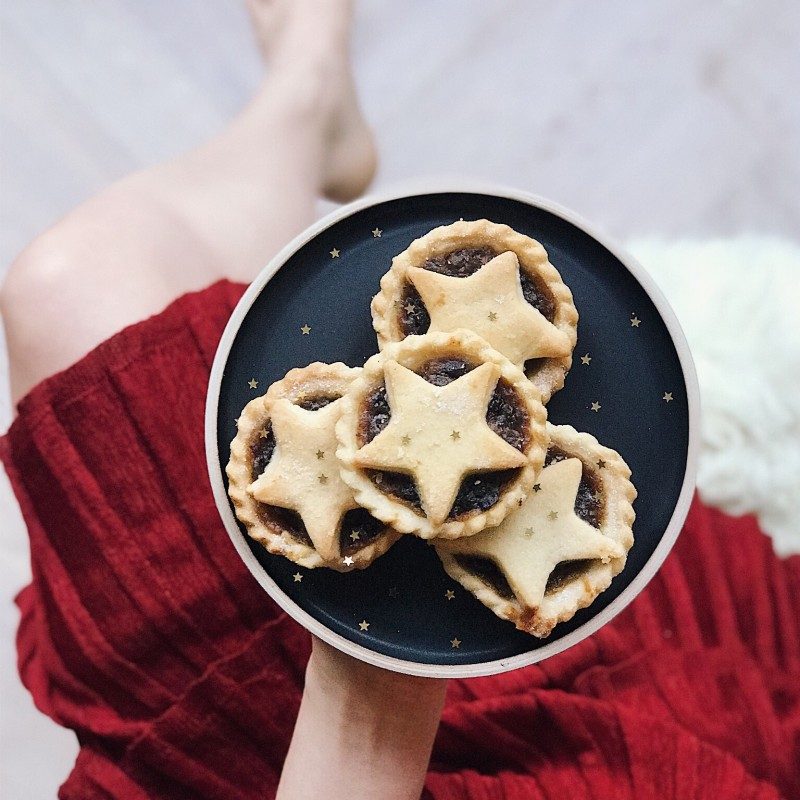 INGREDIENTS
Pastry
350g of spelt flour or GF flour
100g of coconut sugar or brown sugar
1 pinch of salt
220g of butter or coconut oil
3 egg yolks
Mincemeat filling:
200g of chopped dates
100g of walnuts, chopped
1 tsp of clementine zest
2 clementines juiced
2 cloves
½ tsp of nutmeg
½ tsp of cinnamon
1/2 tsp ginger
METHOD
To make the date and walnut mincemeat, place all the ingredients into a pot and cook for 7-10 minutes until the juice has evaporated and all of the flavours have amerced. Leave this to cool.
To make the pastry place the flour, coconut sugar and butter/oil in a food processor and blitz. Add the salt and then the egg yolks one by one. Take the dough out roll into a ball and wrap in clingfilm, place in the fridge for 30 mins to chill.
Preheat the oven to 180 C. Roll out the dough onto a floured surface until it is ½ cm thick.
Butter or oil a muffin or cupcake tray and cut circles into the pastry so as to fit your muffin or cupcake tray. Once the pastry is in place in a few spoonfuls of the mincemeat so it is full to the top.
Repeat until you have around 12 full then use the rest of the pastry to seal the top you can cut out star shapes or hearts. I made these one-handed while burping Shay so I apologise that they aren't as pretty so do me proud and go all out!
Place them in the oven for 25 mins until golden then remove and sprinkle over some desiccated coconut so it looks like snow. Enjoy!