Yoga is part of an enormous, ever-growing wellbeing market which is now filtering into our holiday choices. More and more of us are eager to use our holidays as an opportunity for growth and learning as well as relaxing, so Hip & Healthy contributor, Eva Ramirez did just that earlier this year when she signed up to a cambodian yoga retreat where giving back to the community was at the heart of it's the mission.   
Souljourn is unlike other yoga retreats. They make it their mission to raise funds and awareness for girls' education in developing countries through every single trip they host. A £200-400 donation is built into the cost, which goes towards a sister organisation in each location where they host a retreat. So far, they have been in Nicaragua, Rwanda, Tibet, Peru, Morocco and Cambodia. Aside from the donation, though, the retreats provide a genuine opportunity to understand the work which these foundations does, and why it is so important.
A shocking fact I learned through Souljourn's founder Jordan Ashley is that over 130 million girls globally are denied an education. This means they're also denied endless other opportunities, such as the chance to improve their overall health and quality of life. The trip to Cambodia was partnered with the Ponheary Ly Foundation, which promotes access to public educational opportunities and the health and well-being of children and young people in Cambodia.
Unlike other retreats, Souljourn did not simply use the exotic location as a beautiful backdrop, the trip truly recognised our host community too. Our exploration of Siem Reap was coupled with the grounding experience of learning about Cambodia's past, present and future. We explored the beautiful scenery, visited legendary Angkor Wat and the floating villages, sampled colourful Khmer cuisine, indulged in massages and foot scrubs at a traditional spa, had relaxing pool time, meandered through the endless markets, visited the fantastic Phare Circus and headed out for cocktails and a taste of Siem Reap after dark.
The Meaning of 'Seva'
Seva, a Sanskrit word meaning 'selfless service', is an intrinsic part of Souljourn's mission. Believed in ancient times to contribute positively towards the growth and improvement of a community as well as one's own spiritual growth, this essence of Seva was tangible throughout the retreat. Soaking up the local culture and delving into excursions, activities and site seeing day trips are all fantastic, but the real transformation and learning came from the volunteer work we all did.
Ponheary Ly, our host and founder of the NGO which the retreat had partnered with seemed the embodiment of this sense of selfless giving and gratitude. A remarkably, strong, familial and warm woman, Ponheary had been subjected to horrific experiences because of the Khmer Rouge Regime, tragically losing her father and thirteen of her family members. Having grown up in a family where education was important (her father was a teacher), once Cambodia was politically stable again, Ponheary followed in his footsteps to become a teacher. Through the powerful work of her foundation, she has helped around 8,000 children access quality education.
The volunteering aspect of the retreat was fluidly embedded into the itinerary. For starters, the fact that we were staying at Ponheray's guesthouse meant that she was always around and on hand to share insight and answer any questions we had. The volunteer work was split between mornings at Chey School, where we laughed, played, sung and practiced yoga and movement with the children and evenings with the teens from the foundation's Girls' Dormitory. As the girls were a bit older here, we delved deeper into yoga practice, as well as sharing breathing techniques and mudras. Having a one-on-one exchange with the girls that were benefitting from the retreat, exchanging funny stories and just learning about their lives was a truly unique experience. Not all of the stories were happy; some were sad, gut-wrenching or uncomfortable; but this was where the real connections were made, lessons learned and gratitude found. These unique experiences, with the girls and Ponheary herself were more awe-inspiring than any of the sites I saw on the trip.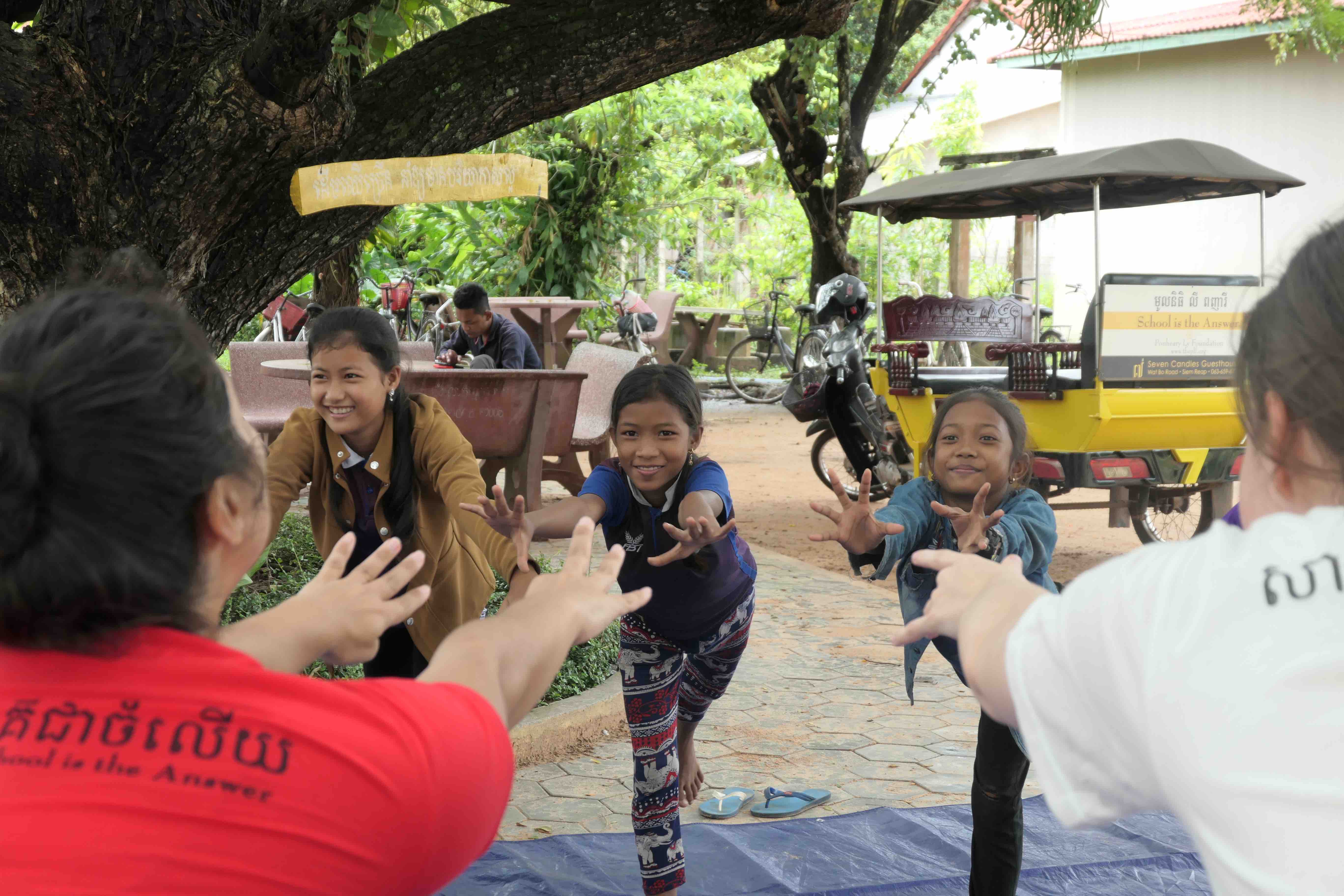 The Yoga
Jordan and fellow instructors Alison Riazi and Lisa Bermudez (both US-based) led the group through carefully considered yoga classes each morning and evening before breakfast and dinner. The classes varied in their focus but were always open to all levels with easily adaptable asanas and movement. Some had a sense of playfulness to them with lots of fun inversions, which injected our sometimes jet-lagged crew with a sense of vigour. Some were slower-paced, reflective and focused on intention setting and breathing techniques. All three instructors brought their own sensitivities to every practice and I personally experienced some truly heart-opening moments. Musings on our experiences throughout the trip were often shared by way of poems and quotes at the end of class, which was a nice way to bring our daily learnings back to the mat. My time in Cambodia with Souljourn and the Ponheary Ly Foundation allowed me to discover aspects of yoga which go beyond the mat – compassion, dedication and self-care.
The Food
This being my first visit to Cambodia, I had not tried much Khmer cuisine but was looking forward to discovering the flavours of this culinary heavyweight. All breakfasts and some dinners were pre-planned and included as part of the retreat, but aside from this, all lunches were open to whatever we fancied. The great thing about staying in the centre of Siem Reap was that we had a plethora of options, all at walking distance. It was a great way to enjoy some time to ourselves if we fancied, and have a bit of time away. I particularly enjoyed exploring local coffee shops and smoothie bars while taking using a few solitary hours to journal.
One of the most memorable meals was a breakfast we enjoyed en route to Angkor Wat. We stopped off at a local spot for Nom Banh Chok, a popular dish which many locals start their day with. The colourful plate presented to me was as beautiful as it was delicious, consisting of rice noodles in fish and coconut broth, served alongside bunches of foraged wild herbs and vegetables like green beans, banana blossoms, water lily stems and chilli peppers. It was incredibly fragrant and floral, full of turmeric, lemongrass, ginger and galangal. The perfect light but filling fuel for a day of exploring.
A fun addition to our itinerary was a night food tour. We were driven around by tuk tuk for a culinary crawl through markets, fairs, food stalls and back-street eateries to experience a taste of real Khmer cuisine. While getting our fill of everything from beef noodles to fishcakes and coconut desserts, we also got a glimpse of Siem Reap by night and had a great time bonding too.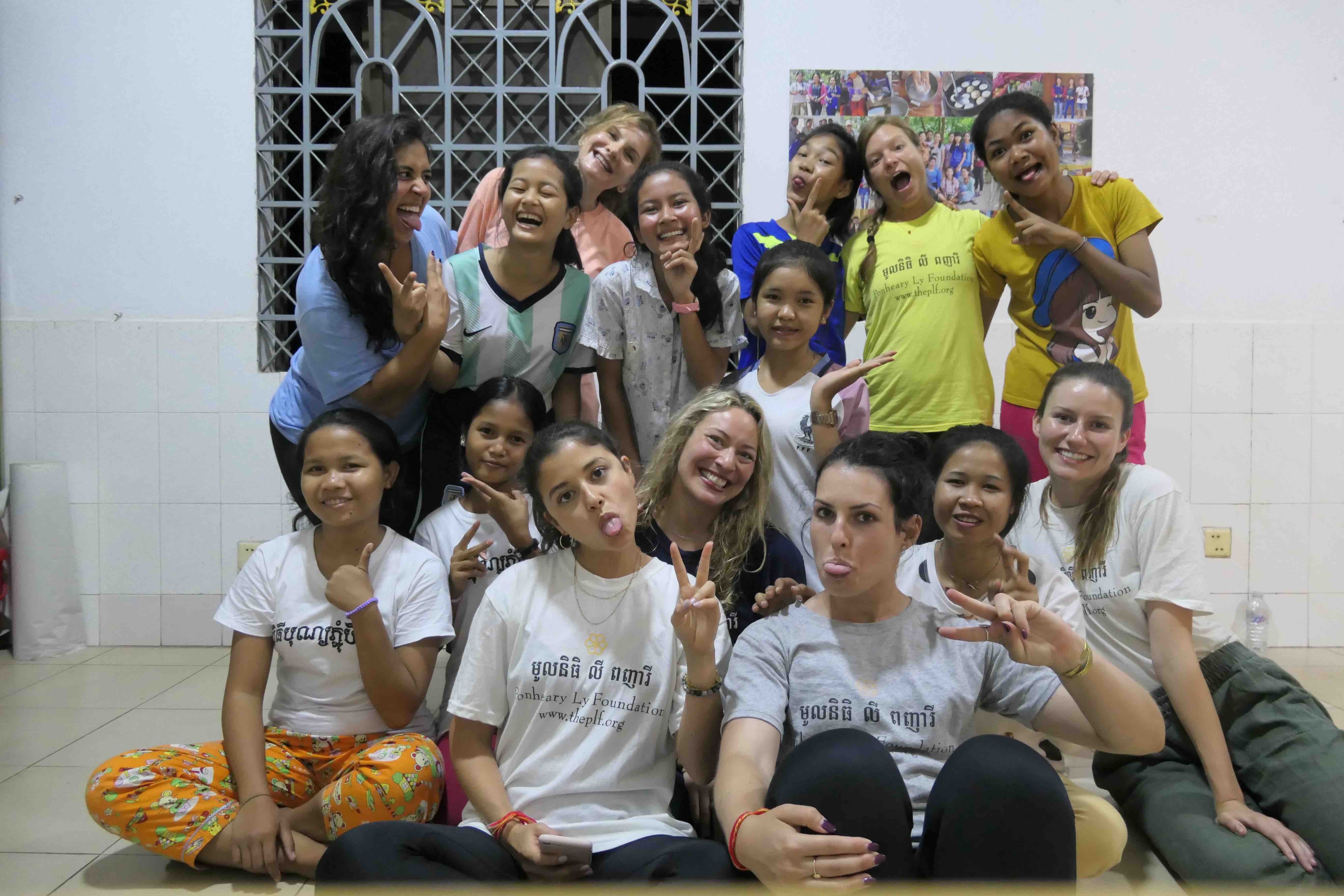 words by Eva Ramirez @evieramirez. Photographs were taken on Leica Camera C-Lux.
---
VIEW MORE IN TRAVEL